Former BJ Butler Lands WSU Job
KSCB News - June 18, 2013 7:15 am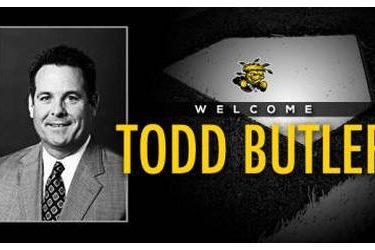 WICHITA ST-BUTLER
Wichita St introduces Butler as head coach
WICHITA, Kan. (AP) – Wichita State's new head baseball coach says he'll make it a goal to recruit the best prospects in Kansas to the Shockers.
Todd Butler was introduced Monday as the successor to Gene Stephenson, who was fired June 4 after 36 seasons. Stephenson left as the second-winningest coach in Division I history.
KFDI-FM reports (http://bit.ly/17Ud2F2 ) Butler told a news conference he'll be carrying a "heavy torch" following Stephenson.
Butler has coached for 23 years and spent the last eight at Arkansas, most recently as associate head coach. During his tenure on the Arkansas staff, the Razorbacks went to eight NCAA tournaments, claimed two SEC Western Division titles and made two College World Series appearances.
Butler says he doesn't want prospective Shockers to leave Kansas for out-of-state schools, adding he's "ready to get on fire to recruit."
Butler coached the 1993 Liberal Bee Jays who went 32-20 to win the Jayhawk League's West division that year.