Forgan Games Air on 102.7
KSCB News - November 9, 2011 7:16 am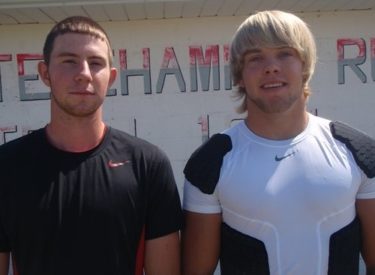 The Game of the Week crew will follow the Class C Forgan Bulldogs in the playoffs. Jack Jacob and Joe Denoyer will travel to southwest Oklahoma in Tipton for the call Friday night at 7:30 on 102.7, The Legend. Forgan is 6-4 and Tipton is 8-2. Elsewhere in Class C, 5-4 Balko plays at 9-0 Temple.
In Class A, 5-4 Hooker is in the playoffs for the first time since 2002. The Bulldogs play at 10-0 Minco Friday night at 7:30.
If fans want to watch a playoff game in our listening area Friday, there are several options. In Class A, 6-4 Okeene plays at 6-4 Texhoma. In 2A Kansas, 10-0 Meade hosts 10-0 Lacrosse at 7 p.m. Stanton County is 9-1 and hosts 9-1 Plainville at 6 p.m. in Johnson. In 4A, 10-1 Ulysses hosts 10-1 Rose Hill at 7 p.m.
In 8 man, 10-0 South Gray plays at 10-1 Osborne on Friday at 7 p.m.
In Texas, 9-1 Booker tries to continue their magical season. The Kiowas host 6-4 Wheeler on Thursday night.