Foresters Spin Combined No Hitter at Bee Jays
Brock Kappelmann - August 7, 2020 6:42 am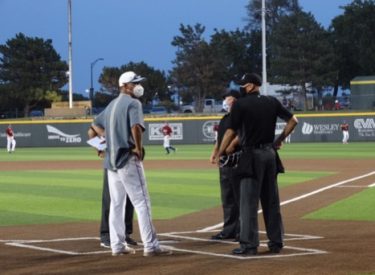 For the first time since 1997, the Liberal Bee Jays didn't have a hit.  Santa Barbara's Sean Johnson (6 innings) Coleman Huntley, Peyton Pallette, and Elijah Trest combined to no-hit the Bee Jays.  Liberal lost the game 8-0.  Cody Bigford walked to lead off the ninth or it would have been a perfect game.
Cole Evans was stellar for the Bee Jays.  He pitched 5 and 2/3 innings striking out six and walking two.  He allowed three runs but two were earned.  The Foresters scored an unearned run in the second and they hit a home run to lead off the third.  The Foresters added a run in the sixth, a run in the eighth, and four in the ninth.  John Kelly pitched 2 and 2/3 and Rafferty Brown went 2/3.
It's the first time the Bee Jays have been no-hit since Jason Stanford of Hays tossed a no hitter against the Bee Jays at Larks Park in 1997.  Liberal is 30-8 and Santa Barbara is 27-4.  The Bee Jays play the Houston Express Friday night at 6 at Eck Stadium in Wichita.  Dugout Show at 5:45 on 1270 and kscbnews.net.