Five Saints Reach Double-Figures in Win Over Cloud
Brock Kappelmann - December 2, 2018 9:50 am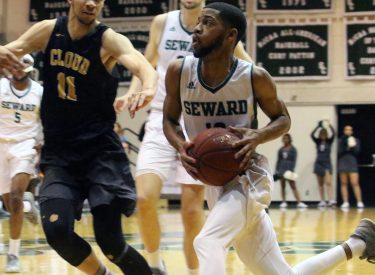 LIBERAL, Kan. – Five Saints scored in double-figures as the Seward County Saints basketball team used an offensive explosion to beat the Cloud County Thunderbirds 81-74. Seward moves to 6-2 overall and 1-1 in the Jayhawk Conference.
It appeared that it may be another tough shooting night for the Saints to start the game as Seward fell behind 9-4 early on, but the tide turned as the Saints went on a 10-2 run to take a 14-11 lead off a Devin Bethely floater. The teams traded baskets, but an and-one by Montrevion Flowers gave Seward a three-point lead at the media timeout.
Seward extended their lead to seven points coming out of the media break, but the Thunderbirds kept the Saints from putting the game away, battling back to make it a three point game heading into halftime, by a score of 41-38.
The Thunderbirds came out of the break and cut the lead to one point on multiple occasions, but the Saints prevented Cloud from overtaking them, having an answer in their back pocket in each occasion. Heading into the media timeout, Mohamed Selmi slammed one home to give Seward a 61-57 lead.
After holding Cloud off for the half of the final twenty minutes of play, a quick 6-0 run gave the Thunderbirds the lead, but it lasted just one possession as Bethely drilled a three from the win to put Seward back on top. Seward had opportunities to put the game away, but free throws continued to be a problem, letting the Thunderbirds stay within reach. Holding a four-point lead with 42 seconds left in the game, Flowers connected on a corner three that become the dagger for the Saints, as Seward won 81-74.
With their leading scorer out due to injury, the Saints made the most of every opportunity down the court, shooting 47.1 percent (33-of-70) from the floor and 40.9 percent (9-of-22) from deep.  The Thunderbirds shot 41.5 percent (27-of-65) from the floor and 50 percent (9-of-18) from behind the arc.
Flowers led the Saints attack, scoring a career-high 19 points, while going 4-for-6 from behind the arc. He also finished with five rebounds, four assists and three steals in the victory.  Reggie Miller also set a career-high, scoring 14 points on 5-of-8 shooting.  Marco Morency (14 pts), Bethely (16 pts) and Selmi (14 pts) each reach double-figures.
The Saints will continue conference play on Wednesday (Dec. 5) at 8:00 p.m. when they travel to play the Allen Red Devils in Iola, Kansas.  The game can be heard on 107.5 FM with Brock Kappelmann on the call.