Five Post Season Awards for SCCC Softball
Brock Kappelmann - May 14, 2021 4:23 pm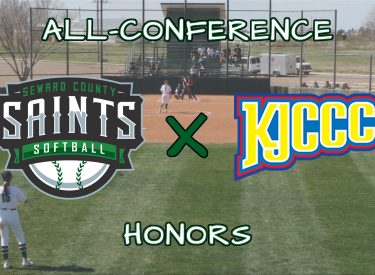 LIBERAL, Kan. – The Kansas Jayhawk Community College Conference has released the All-Conference teams for Division 1 softball, and Seward County Community College receives five individual honors. Alyssah Pontoja earns first-team honors, Macy Cesa-Spearman, Jaci Oakley, Ayanna Clemons, and Ashley Low receives second-team honors in the West.
Alyssah Pontoja received the first-team honors as a utility player with her performance from the circle and from the plate. Pontoja started 15 games and pitched 104 innings with an ERA of 5.52 on the season. She also provided the offense for Seward County and led the team with a .377 batting average, six home runs, 18 RBIs on 20 hits.
The Saints were named the second team's first baseman, shortstop, and two outfielders. Ayanna Clemons was awarded second team All-Conference first baseman with a .298 batting average, 28 RBIs, and five home runs on the year. Macy Cesa-Spearman was named to the second team as an outfielder and as the Saints right fielder Cesa-Spearman had 22 RBIs, five home runs, a .333 batting average, and led the team with 21 stolen bases.
The center fielder for Seward County Ashley Low was named to the second team and had 32 RBIs, six home runs, with a .333 batting average. Jaci Oakley the Saints shortstop was named to the second team All-Conference with a 3.56 batting average, 29 RBIs, and six home runs on the season.
Seward County ended the season with a 17-17 record, and a 16-11 conference record.
For the complete list of the All-Conference teams follow the link below.