Firework Bonanza Scheduled for Saturday Night in Guymon
Joe Denoyer - August 20, 2020 8:01 am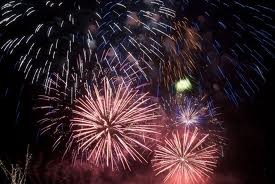 July 4th passed with no Firework display from the City of Guymon, but that has changed for this Pioneer Days Weekend.
The City of Guymon has announced that Saturday night immediately following the PRCA Rodeo there will be a large Firework celebration at Sunset Park. "The August night sky will burst with the large Firework display between 9:45pm-10:00pm Saturday night", said Guymon Fire Chief Grant Wadley. Western Enterprise of Enid, Oklahoma will be in charge of this year's Fireworks and it is expected to be a great show.
This display will be different than the normal July 4th show. Launching will be from the west side of Sunset Lake, the sun will have set nearly an hour before it begins, and visitors to Guymon for the Rodeo that night will have a wonderful ending. Fire Chief Wadley expresses this firework show is a public display only and discharge of private or individual fireworks within the city limits is prohibited.