Fire In Guymon Started By Faulty Wiring in Chair
KSCB News - September 1, 2010 12:00 am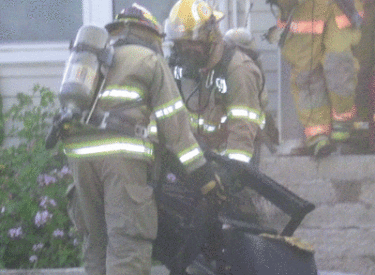 A neighborhood, in the 1200 block of North Oklahoma, in Guymon, was awakened around 8 a.m. by the sound of sirens.
A normally quite street, the commotion brought neighbors quickly outside. Smoke noticeably filled the air on the north end of the block.
The fire apparently started from a medical lift chair, possibly due to faulty electrical wiring in the chair. The resident was reportedly sitting in the chair and felt it getting hot. She quickly left the house and called 911.
According to Assistant Fire Chief, Dean McFadden, "There was heavy smoke upon arrival."
Emergency personnel blocked off the street as firefighters entered the residence with the hose.
McFadden said, "We did an aggressive interior attack and got it knocked down pretty quick."
Firefighters removed what was left of the charred lift chair from the house and into the front yard.
McFadden reported that there was not a lot of fire damage, however, there was smoke damage through out the whole house.
No injuries were reported.