Fire Destroys Building In Guymon
KSCB News - May 22, 2011 5:29 pm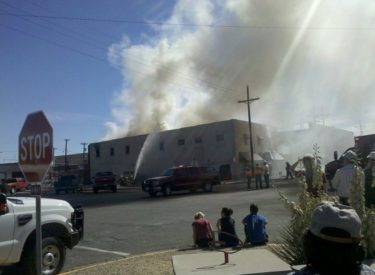 Guymon Firefighters were on the scene of a major structure fire early Sunday morning after residents knocked on the door of the fire station, as well as called 911, to alert firefighters of a structure fire at 4th and Quinn.
"Fire was seen on the outside of the building in the back and was already extending into the building," said Assistant Fire Chief Grant Wadley.
Three hours after the fire was first reported, firefighters were still fighting the second story blaze. Nobody was in the building at the time of the fire.
Three firefighters have been hurt. Two were treated and remain on scene fighting the fire. The third was transported to the Guymon hospital with a hand injury.
"We are what we call a defensive attack mode," Wadley said at 11:15 a.m. "In other words, no officials are in there right now due to structural collapse."
The second floor of the building has collapsed and the building is unstable.
The entire area around the building has been evacuated, and Tri-County Electric cut off power to the area.
As of 11:45 a.m. Sunday the fire was not under control.
"This building had The Pub (on the Bricks), a law office, many offices up on the seconds floor, and a clothing store," Wadley said. "They're at a loss."