Fire Burns Near Arkalon
Joe Denoyer - October 20, 2021 4:53 pm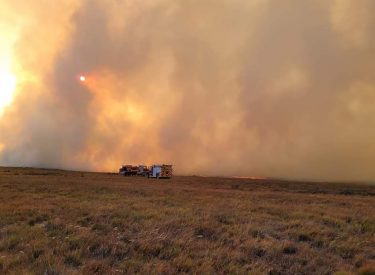 On October 19, 2021 at 5:27 PM Seward County Fire Department was dispatched to a wild land fire on Highway 54 East of Road P.
Units arrived on scene to find 5 acres of natural vegetation wind driven with a rapid rate of spread. Mutual Aid was requested from Meade County and Haskell County Fire Departments. The Fire was contained at 8:27 PM with forward progress being stopped. Numerous Hay bales continued to burn throughout overnight hours as fire crews remained on scene working the containment lines. The cause of the fire is undetermined start along the highway with approximately $6,000.00 in round bale loss. No injuries were reported, no structures were threatened. The department responded with 12 fire apparatus and 15 firefighters and two Chief Officers.  The department was assisted by KHP, Seward County Sheriffs Office, Meade County Fire, and Haskell County Fire.
Total acres burned was 100 and the incident was completed ar 4:30pm on 10/20/21 after approximately 24 hours of working the incident.