Field Position Woes Plague Liberal
Brock Kappelmann - September 11, 2021 7:43 am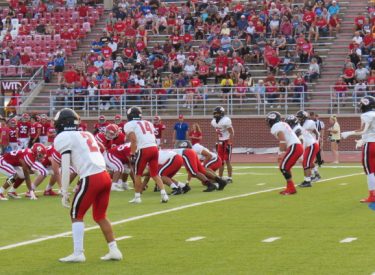 Dodge City beat Liberal 48-12 on a hot night Friday night at Dodge City Memorial Stadium.  Liberal struggled with field position throughout the night.  Dodge City only out gained Liberal 353 to 322.
The Red Demons began their first drive on the Liberal 30.  Dodge City quarterback Tucker Smith ran 29 yards through a big hole on the right side to set up a Chance Kerr one yard run for the Demons at the 9:16 mark.  A bad snap on Liberal's punt attempt gave the Demons the ball at the Redskin 7.  Isaiah Taylor's one yard run made it 14-0 after the PAT at the 6:51 mark.  Brooks Kappelmann's heave was gathered in by Easton Zapien near midfield leading to an 89 yard touchdown.  It was 14-6 after one quarter. Deep in their own territory, Liberal threw an interception to Dodge City's Remmington Miller for a short return for a score at the 11:53 mark of the second quarter.  Dodge City's Tucker Smith found wide open Dylan Smith after a breakdown in the LHS secondary leading to a 49 yard score to make it 28-6.  Dodge City dislodged a potential touchdown pass from Kappelmann to Kerr leading to an interception by Rudy Hernandez.
Hernandez began the scoring in the second half with a nine yard run.  Liberal responded with a fumble recovered by Dodge City.  Dodge City's Emanuel Medrano kicked a 26 yard field goal to make it 38-6 with 4:28 to play.  Dodge City's Austin Schulte's 48 yard TD pass to a wide open Dylan Smith made it 45-6.  Kappelmann found Kerr for a 46 yard touchdown to make it 45-12 with :21.8 before half.  Medrano kicked a 25 yard field goal in the fourth quarter to make it 48-12.
Hunter Huskey was the Epic Touch Player of the Game with 90 rushing yards.  Liberal passed for 156 yards and rushed for 166 yards.  Dodge City passed for 134 yards and rushed for 219 yards.
Liberal loses their fourth straight to Dodge City by a combined 159-24.  Liberal is 1-1 and 0-1 in the WAC.  Dodge City is 2-0 and 1-0.  Liberal hosts 2-0 Hays Friday night at 7 at the Gary Cornelsen Sports Complex with Redskin Pre-game at 6 on 1270, 92.3 FM, and kscbnews.net.