Fatality Accident Near Boise City, Victims Unidentified
Joe Denoyer - August 24, 2022 3:13 pm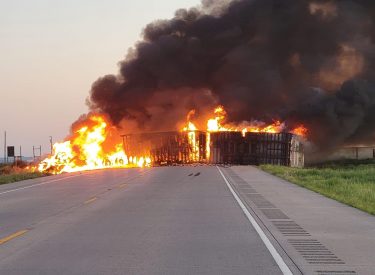 Photo courtesy by Crystal Sallee
A fatality accident occurred Wednesday morning at approximately 7:03 am on US-287 approximately 5 miles north of Boise City, Oklahoma in Cimarron County.
A 2021 U-haul being driven by 24-year-old Donald Gregory Gardner, was southbound on US-287 while a 2020 Freightliner driven by Gabriel Presidado age 47 was northbound on US-287. The U-Haul crossed the center line of US-287 entering the northbound lane of traffic. The U-Haul struck the semi on US-287. Both vehicles became engulfed in flames and burned. The driver of the U-Haul and Virgie Johnson Turner a passenger in the U-Haul were pronounced deceased at the scene by the medical examiner.
Presidado was flown by Apollo to University Medical Center in Lubbock Center where he was admitted in critical condition with head trauma and internal trunk injuries.