Fast Start Sends Saints to Region 6 Championship Game
Brock Kappelmann - March 5, 2019 6:12 am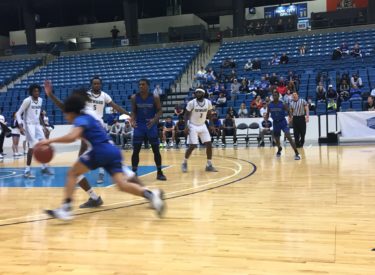 Phillip Lee
PARK CITY, Kan. – The No. 13 Seward County Community College men's basketball team started off fast and never looked back in a 94-70 triumph over Barton Community College on Monday to advance to the Region VI championship game. The Saints will play Hutchinson Community College in the finals at 7 p.m. on Wednesday at Hartman Arena.
Devin Bethely had 21 points, six rebounds, five assists and three steals for the Saints, who shot 57 percent (36-63) from the field for the game. Isiah Small added 20 points and 11 assists and Marco Morency scored 19 as Seward improved to 28-5 overall and ran its winning streak to 10 games.
Seward jumped out to a 10-0 lead and extended the margin to 19-5 with 13:09 left in the first half. Bethely had 10 points and Small added five points to key the run for the Saints, who held the Cougars to 10 points the rest of the half and opened a 43-15 advantage at intermission.
Seward was strong defensively, limiting Barton to just 17 percent shooting in the first half and 35 percent for the game.
The Saints, who had 11 of 12 players score, continued to pour it on in the second half and led by as many as 34 at 62-28 with 14:20 left.
John Williams had 15 points and Leondre Washington and Elijah Ford each scored 14 for Barton, which lost to Seward for the third time this season. The Cougars finished the season at 26-8.
Seward and Hutchinson will meet for the third time this season. The Saints have won both meetings, 87-79 at Hutchinson and 94-75 at the Greenhouse.