Fast Start Paves Path to Another Blowout for Liberal
KSCB News - June 20, 2012 6:50 am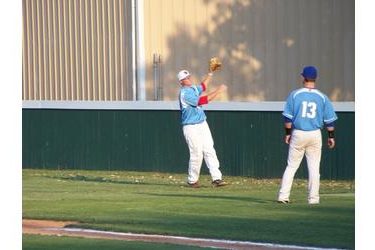 With winds gusting as high as 45 miles per hour, the Liberal Bee Jays jumped all over the Denver Bombers again Tuesday night 13-3 in seven innings at Brent Gould Field. Liberal chased home six in the first and five in the second to end any suspense. Liberal added one in the third and one in the seventh. The Bombers didn't score until the seventh. Denver (4-9) struggled in the wind committing five errors.
Newcomer from Cal-Irvine Sebastian Santos pitched five scoreless innings with five strikeouts. Wichita State's Kyle Vail pitched the final two innings.
Seward's Sam Pack drove home three runs. Louisiana Tech's Stephen Gandy went 2-3 with two RBI's and three runs. UTA's Travis Sibley was 2-4 with an RBI.
Liberal (12-3) has won seven straight and nine of the last 10.
The BJ's return to Jayhawk League play Wednesday night at 7 p.m. at Dodge City. The game airs on Talkradio 1270 and kscbnews.net.