Fast Start Buoys BJ's Past Derby
KSCB News - June 16, 2012 7:28 am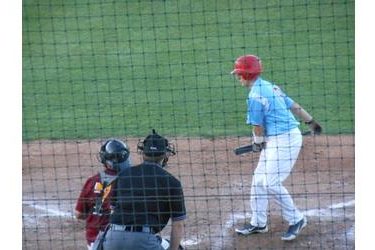 That was a switch. Rather than rallying for victory as they did twice in Hays, the BJ's start quickly and hold on for an 8-4 victory. Liberal built a 7-0 lead scoring four in the first, two in the second, and one in the fourth. Derby cut Liberal's lead to three with three in the sixth and one in the seventh before Liberal chase home an insurance run in the eighth.
Liberal scored four in the first when Wichita State's Tyler Baker one hopped the wall in right center with an RBI double and WSU teammate Dayne Parker singled home Baker. OCU's Johnathan Sigado singled home a run and would later score on a throwing error by the catcher.
Liberal scored two in the second when UTA's Derek Miller singled, stole second, and went to third on another error by the Derby catcher. He would score on an error by the Derby shortstop. Louisiana Tech's Stephen Gandy added an RBI single.
Liberal made it 7-0 in the fourth when Parker singled home UTA's Travis Sibley.
Derby scored three in the sixth and OCU right hander Dalton Bernardi showed some signs of fatigue. But it was a quality start Bernardi who went six innings striking out seven and walking to for the victory. In the seventh, Oklahoma State left fielder Ryan Schilhab made sure the Twins who had already scored one in the inning to make it 7-4, didn't draw any closer. After a basehit to left, Schilhab threw out a runner trying to score as Tyler Baker applied the tag.
Liberal scored another run in the eighth when Travis Sibley scored after Sigado was walked with the bases loaded.
Bernardi earned the win allowing three runs. Seminole's Cale Russell pitched two innings allowing one run. Coffeyville's John Branum pitched a scoreless ninth.
Offensively, Parker was 4-5 with two RBI's and Sibley was 2-4.
Liberal is 8-3 overall and 6-3 in the Jayhawk. Derby is 4-8 overall and 4-6 in the Jayhawk.
The same two teams meet Saturday night at Brent Gould Field at 7 p.m. on Talkradio 1270 and kscbnews.net. Today is Kids Day and there will be a free youth clinic at 10 a.m. at Brent Gould Field followed by an autograph signing party for the kids at Epic PCS who will serve free hot dogs. Liberal Parks and Recreation teams run the bases during the 7 p.m. game Saturday night.