Farm Income Up Over Last Year
Joe Denoyer - May 17, 2021 7:56 am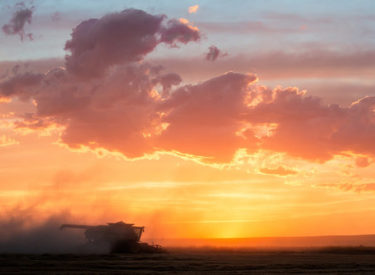 Farmers working late harvesting wheat as the sun sets near Big Sandy, Montana.
Early concerns for a tough year on Kansas farms linked to the coronavirus pandemic in 2020 were ultimately alleviated by strong crop yields, dramatically improved grain prices and COVID-19-related government payments, according to the Kansas Farm Management Association.
Net farm income for KFMA members climbed to $167,894 last year, up from $108,960 the previous year and the five-year average of $98,282. The data reflected a string of consecutive years of increasing gains since 2015 when income plummeted to $6,744, its lowest average in 30 years.
In what he termed as "the wild ride of 2020," KFMA director Kevin Herbel said early expectations were for a sharp drop in income due to market and supply chain disruptions, temporary livestock processing closures, dry weather in some areas, increased feed costs and other factors. However, the year turned out better than anticipated, due in large part to pandemic-related relief.
Government payments linked to coronavirus pandemic relief and traditional program payments (Agricultural Risk Coverage, or ARC, and Price Loss Coverage, or PLC), plus livestock and conservation payments averaged $113,078, which was 67% of net farm income, Herbel said. Without those payments, 2020 net farm income would have averaged $54,816 per farm.