Family Dispute Leads To Attempted Arson
KSCB News - June 18, 2010 12:00 am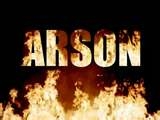 A Guymon man has been released on bond after allegedly pouring gas in a garage saying he was going to "burn this house down."
Christopher D. Mitchell, 35, of Guymon was arrested late Sunday night after a family fight where he allegedly took a gas container, poured it around the garage and advised he was going to burn the house down, according to a report in the Guymon Daily Herald.
The other party involved in the dispute thought that gas was spilt on the Mitchell's daughter. Guymon EMS was on scene to check for any injuries associated with the gas and fumes.
The victim also advised police that Mitchell had pushed her and threatened to kill her. He also allegedly threw her to the floor, all while the daughter was watching.
Mitchell explained that in the process of the family fight, the other party involved made him accidentally spill the gas. He was taking the gas container outside where he was going to burn his stuff.
Mitchell is facing the felony charge of Attempted Arson in the First Degree and the misdemeanor charges of Domestic Assault and Battery in the Presence of a Minor, Interference with an Emergency Telephone Call and Threatening to Perform an Act of Violence. He faces up to 20 years in prison.