Familiar Territory for Forgan
KSCB News - March 5, 2014 9:13 am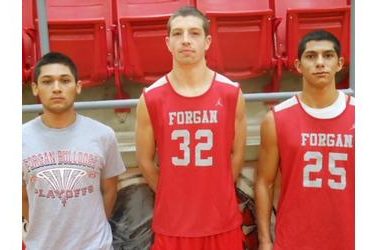 The Forgan Bulldogs are in the Class B state tournament. What else is new? The Bulldogs have made it a habit to play for the gold ball in the sport's final weekend. The 26-1 Bulldogs are a favorite to win it all this year after enjoying a 26-1 season. For Forgan, it's their fourth straight trip to state and fifth in the past six years under 12th year head coach Todd Kerr.
Last year's trip to state was cut short after a loss to Coyle in the first round of state as the Bulldogs finished 26-3. Much of that team is back chasing the gold ball although Jake Regier graduated and is playing at OPSU.
This year's Forgan team is led by 6'6" Sr. Jace Kerr who averages 18 points and eight rebounds per game. Classmates 6′ Trevin Lopez (10ppg, 5rpg) and 5'10" Luis Ordonez (9ppg, 5 rpg) also are productive in the starting lineup. Junior Chandler Bryer is 5'11" and averages 14 points per game while 6'3" So. Dee Alston scored 10 points per game and rebounds seven per game. Junior 6'6" Cameron Vanatta averages seven points and six rebounds a night off the bench and 6'2" Jr. David Stout scores four points per game.
Forgan continues to put up dizzying numbers winning regionals six years in a row and winning district for 20 straight years. They have won 50 straight at Bullard Gymnasium dating back to February 2, 2008 in a loss to Turpin.
They have produced college athletes like Regier at OPSU, Rhett and Ryan Radcliff at Northwestern Oklahoma State, and Tanner Jones in football at Northwestern in Alva. Kerr has already signed to play basketball at UCO.
Forgan opens state at 8:30 Thursday at Carl Albert against Cave Springs.