Experts Anticipate Above Average Wheat Crop
KSCB News - May 3, 2012 3:31 pm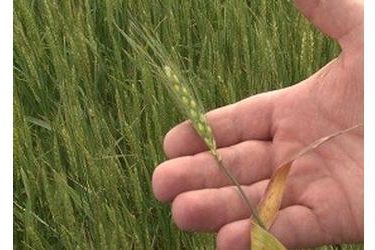 Wheat harvest is only a few weeks away for some Kansas farmers.
A tour across the Sunflower State by global wheat industry stakeholders to get a snap shot of the crop's development wrapped up Thursday afternoon.
While many participants in this year's wheat quality tour took their time in estimating yields and quality in each field they stopped at, they didn't have to take a very close look to be able to tell this year's harvest will start a couple of weeks earlier than normal.
"There's definitely some fields that are starting to turn and going to be harvested here in about three weeks," said Justin Gilpin, CEO of the Kansas Wheat Commission. "
Gilpin also said that early harvest should be a good one for many Kansas farmers.
"We've seen really decent potential in the central part of the state and the north-central and northwest, but we're certainly seeing some drought conditions in the southwest part of the state that's going to be a challenge for yield."
About 100 people from many sectors of the wheat industry, including farmers and representatives from food processors, fanned out across Kansas this week to assess the overall condition of the state's hard red winter wheat crop.
"I don't believe in my lifetime I've seen the state fully as headed as much as it is right now," said Sumner County farmer Dennis Metz. He was referring to the fact that about 75 percent of the state's wheat crop has headed and begun to develop grain about two weeks earlier than it normally does.
"It was a little bit of an amazement to me as far west as it is headed, and if we get some hot, dry days, harvest may move across Kansas pretty fast," Metz said.
Tour participants found disease problems in many of the fields they surveyed. Wheat is showing signs of stripe rust and Barley Yellow Dwarf virus. Both disease can reduce yields, but the effects are not expected to be widespread of significant this year.
"A lot still depends on what happens the next couple of weeks for weather, but, at this point in time, it looks to be an above average wheat crop for Kansas."
The next few weeks will be filled with plenty of anxiety as farmers await the arrival of this year's wheat harvest with cautious optimism. However, there will be less time to wait before combines start rolling across Kansas this year.
"The only thing you worry about now is a big hail storm right now, or a hard rain to blow it down."