Ex-Sen. Bob Dole Out Of Hospital, Feeling 'Better'
KSCB News - January 14, 2011 7:18 am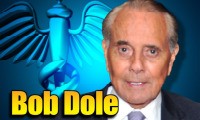 Former Kansas Sen. Bob Dole has been released from Walter Reed Army Medical Center in Washington for the second time in less than a week.
Dole said in a statement Thursday that he feels "a whole lot better" after being treated for a minor infection. He said he plans to return to work Friday.
The former U.S. senator first left the hospital Jan. 7 but returned that same night after a recurrence of a fever.
The 87-year-old Dole spent 10 months at Walter Reed last year after suffering pneumonia following knee surgery. He left the facility in mid-November.
Dole was elected to the U.S. House in 1960, and the Senate in 1968. He was the Republican nominee for president in 1996, but lost to Bill Clinton.