Ex-Official Wants Delay In Kan. Ticket Scam Trial
KSCB News - January 12, 2011 10:31 am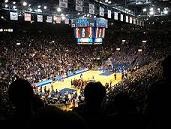 A defense lawyer wants to delay the trial of a former University of Kansas official charged with conspiring to steal more than $2 million in tickets to sporting events.
A motion filed Tuesday on behalf of former associate athletic director Ben Kirtland seeks to continue the Feb. 15 trial by at least 30 days to give the defense more time to review evidence.
Attorney Robin Fowler says the government has about nine boxes of documents, plus documents on several computer discs. He says some 62,000 pages of e-mails also must be reviewed.
Two other defendants in the case are scheduled to enter guilty pleas later this week.
Fowler says prosecutors and the remaining defendants, Thomas and Charlette Blubaugh, don't object to delaying the trial.