Etbauer Brothers Headed To Pro Rodeo Hall Of Fame
KSCB News - April 10, 2012 8:31 am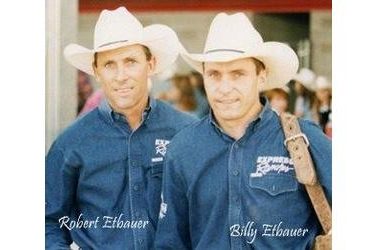 The Etbauer name, legend in the cowboy sport for a generation, will be stamped in bronze this July when five-time World Champion Saddle Bronc Rider Billy Etbauer and two-time World Champion Robert Etbauer are inducted into the ProRodeo Hall of Fame, heading a class of seven.
The Etbauers are joined by the late three-time world champion roughstock cowboy Frank Schneider, three-time PRCA Bareback Horse of the Year Khadafy Skoal, five-time NFR barrelman Jon Taylor, longtime rodeo administrator Hal Littrell and the Dodge City ( Kan. ) Roundup, which has nine times been named the PRCA Rodeo Committee of the Year.
Billy Etbauer, of Edmond, Okla., is the only man in ProRodeo history to surpass $3 million in career earnings in a single event – one of only three men to reach that milestone, period – and he holds the record for most Wrangler National Finals Rodeo qualifications by a roughstock cowboy (21) and most overall round wins at
His five gold buckles came over a span of a dozen years (1992, 1996, 1999, 2000 and 2004), with the last of them coming at the age of 41, making him the oldest world champion saddle bronc rider on record.
Elder brother Robert, of Goodwell , Okla. , won his saddle bronc riding world championships in 1990 and 1991 and qualified for the NFR 12 times (1988-92, 1994-2000). For eight of those years the youngest Etbauer brother, Dan, qualified for the NFR with Billy and Robert; Dan qualified 10 times overall (Dan is not eligible for induction as a contestant, because the current criteria includes a minimum of one world title).