Epic PCS Receives National RCA Marketing Awards
KSCB News - October 25, 2010 12:00 am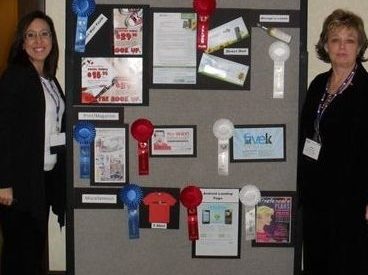 Epic PCS received three national Excellence in Marketing Awards at the Rural Cellular Association (RCA) 2010 Business and Technical Conference held recently in Myrtle Beach, S.C.
Epic PCS took home first place in print, second place in billboards and third place in miscellaneous, all of which were designed around their recent marketing campaign featuring their spokesperson and comic book character, Chloe. The miscellaneous entry included the free press coverage of the Chloe billboard launch party held in August in Liberal, Kan.
All ad designs are the work of Linda Ward, advertising and marketing director for Epic PCS and Epic Touch, and Christopher Garrison, marketing and creative designer for Epic PCS and Epic Touch. One of the winners was designed around a specific sales campaign designed by Caressa Jays, sales manager for PCS and Epic Touch.
??These awards mean a lot to us because the judging was from the large number of attendees, especially RCA members, at this important annual conference. It is, in essence, our peers, ? said Linda Ward, advertising and marketing director for Epic PCS and Epic Touch. ??RCA membership is made up of small and very large companies from across the nation. RCA, based in Washington, D.C., is the nation's leading association for wireless providers serving rural areas of the United States. ?
"These three honors join the marketing team ??s recent Telly Award as peer recognition. The RCA Excellence in Marketing Awards acknowledges print, billboard and promotions while the national Telly is for video and television work. Congratulations to our in-house marketing and advertising department, ? said Troy Barnett, Epic Touch Network Services Manager.