Epic PCS Donates To Think Pink Project
KSCB News - February 7, 2011 1:19 pm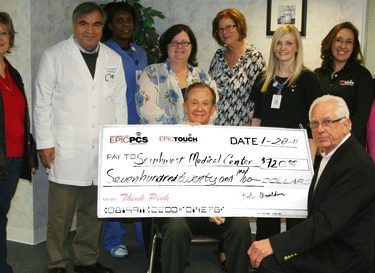 Combined efforts between Southwest Medical Center and Epic PCS to promote Breast Cancer Awareness Month resulted in $720 donated to the 2011 Think Pink Project by Epic.
The check presentation was made recently when officials of the two companies got together to discuss how its partnership would continue.
??This check represents pink wireless phone sales during last October at all three of our retail stores in Liberal, Elkhart and Guymon, ? said Bob Boaldin, Epic Touch president and owner. ??We are happy to make this donation to start off the 2011 Think Pink project and want to thank Southwest Medical Center for its dedication to the project begun in 2007. ?
In addition to the pink phone campaign, Epic PCS was involved in several parts of the project including a video, a segment of which was seen on national television.
??We partnered with Southwest Medical Center and also produced a ??Your Life in Three Words ?? video. A highlight of the project was when part of the video was broadcast on Good Morning America, ? said Linda Ward, Marketing and Advertising Director for Epic PCS and Epic Touch.
??The pink phone sales campaign, in which a portion of every pink phone sold was designated for the local Think Pink group, was a good way to involve our customers in the project, and while the financial donation is an important part, the partnership grew to several levels, ? she said.
Epic also participated in the decorating contest for businesses, honored its employees and their family members who have been touched by cancer and sponsored important health information on how to do self-exams for women and men.
The campaign, according to Southwest Medical Center Public Relations Director Nancy Kletecka, would not work without a ??team ? effort.
??Our staff has pulled together the past four years to make this program into something that would touch lives and make a difference in the community, ? Kletecka said. ??It has only gotten better with the added ??team effort ?? of such businesses as Epic PCS. We are very grateful for their involvement in our 2010 program and we are looking forward to bigger and better things to come with this partnership in 2011. ?
Boaldin said they, too, are optimistic about this year ??s program.
??We look forward to this year ??s Think Pink campaign, ? said Boaldin. ??An important part of Epic Touch and Epic PCS is that we are very involved in the communities we serve. Helping save lives through the education and awareness of breast cancer and cancer in general is a worthy goal. ?
-30-
EPIC TOUCH CO. is a proven voice, video and data provider in southwest Kansas and the Oklahoma Panhandle that began more than a half century ago in Elkhart, Kan. An innovative leader in the industry, the company installed digital switching and the longest unrepeated fiber network in the nation in 1984 and in 1997 was one of the first to provide Internet service to rural America and to provide high speed Digital Subscriber Line based service with its deployment. Owned by Bob and Dian Boaldin, EPIC TOUCH CO. includes the cable, telephone and Internet company in Elkhart, Kan., a wireless PCS network with partners nationwide and communications product retail stores in Guymon, Okla., and Liberal and Elkhart, Kan.
Southwest Medical Center is a non-profit, 101-bed hospital that is county-owned. They have never utilized tax dollars in the operation of the local healthcare facility since its inception in 1964.