Environmentalists Seek Hearings On Coal Plant
KSCB News - June 22, 2009 12:00 am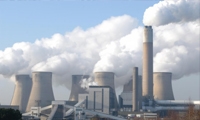 AP) – Environmentalists are demanding that a state agency hold public hearings on plans to build a new coal-fired power plant in southwest Kansas.
Earth Justice and the Kansas Sierra Club sent a letter to Kansas Department of Health and Environment Secretary Rod Bremby demanding that the public have a chance to weigh in on plans by Sunflower Electric Power Corp. to build a plant near Holcomb.
In April, Gov. Mark Parkinson and Sunflower officials reached a settlement over plans to build a new plant, reducing the company's request from two plants to one 895 megawatt plant. The settlement also contains other renewable energy provisions.
Bremby denied Sunflower's initial application for two plants in 2007 over concerns about carbon emissions.