Emmet's Big Night Not Enough
Brock Kappelmann - July 4, 2019 9:42 am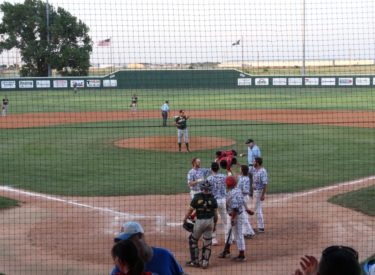 The Dodge City A's defeated the Liberal Bee Jays 10-6 Wednesday night at Brent Gould Field.  This was despite Connor Emmet going 4-5 with two homers,  a double, and four RBI's.
Without Cole Evans and with their Thursday starter Riley Bost on a mission trip, the Bee Jays were out of rotation on the mound.  Cole Schoepke started and pitched 2 and 1/3 allowing two earned runs but walking six.  JJ Rytz went 3 and 2/3 allowing four but with mostly soft contact.  Rafferty Brown went two scoreless and Danny Medlock returned from his injury and pitched one inning allowing a run.
The A's scored three in the first on one hit. An error meant all three runs were unearned but there were four walks.  Dodge scored two more in the third for a 5-0 lead.  In the third, Connor Emmet lined a homer to left center.  Two batters later, Blake Dickman cranked a home run over the center field wall for his second of the year. Brandon Holdren led off the fourth with a triple off the center field wall.  Aiden Shepardson lined a single over the second baseman's head to make it 5-3.  Emmet launched a three run homer to left center to give the Bee Jays a 6-5 lead.  Dodge City came right back with two in the fifth to lead 7-6.  The added single runs in the sixth, seventh, and ninth innings.  Meanwhile the BJ bats went silent with only one hit after the fourth. Dodge City out  hit the Bee Jays 15-9.  Liberal had two errors and walked 11.
Liberal falls to second in the Jayhawk West division at 7-6.  They are 17-10 overall and 15-10 in the KCLB.  Dodge City is 17-9 overall, 16-9 in the Kansas Collegiate, and 3-6 in the Jayhawk.
Liberal hosts the Denver Cougars for the 4th of July Game at 7.  The Dugout Show airs at 6:45 on 1270 and kscbnews.net.  The Community Bank and Ashley Homestore are the buyout sponsors. Fireworks will follow the game.  First Southern Baptist Church is providing a free picnic from 3-6.