Embezzeler Caught Again
KSCB News - June 29, 2009 12:00 am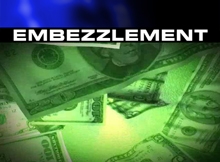 A former Guymon woman who was tried and convicted for around $50,000 in computer fraud while employed at the Oklahoma Department of Human Services is now being tried for allegedly embezzeling $26,000 from Sand Creek Pipeline Construction. The Guymon Daily Herald reports that Selene Belden, 36, was found guilty and sentenced to 10 years with all except the first six months of said term suspended in the previous case.
According to the probable cause affidavit filed at the Texas County Court Clerkź??s Office, Belden used the alias Sanjuana Selena Belden in the present case, and is charged with unlawfully, willingly, knowingly and wrongfully committing the crimes of embezzlement after a former felony conviction.
Belden allegedly committed a felony on or between the 12th day of March, 2008, and the 2nd day of June, 2009, by fraudulently appropriating the sum of $26,630.17 that belonged to Kevin Williams, Sand Creek Pipeline Construction Company and has been entrusted to the said defendant by Kevin WIlliams, Sand Creek Pipeline Construction Company.
This crime is punishable by imprisonment in the State Penitentiary for up to 10 years and a fine not to exceed $10,000 and restitution.
Belden was released on a bond and is currently awaiting trial