Elkhart Woman Injured in Garden City Accident
Joe Denoyer - October 10, 2021 9:50 pm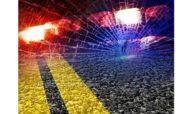 On October 8, 2021, at around 12:20 P.M., Officers of the Garden City Police Department, Garden City Fire Department, and Finney County EMS were dispatched to the 3100 block of E. Kansas Avenue for an injury accident involving multiple vehicles.
Officers learned that a Ford F-150, driven by Carlos Ramon-Gastulo (37), Garden City, KS, was headed eastbound in the outside lane of the 3100 block of E. Kansas Avenue through a construction zone. Ramon-Gastulo told officers that the brakes of the F-150 failed, and he hit the rear end of a Ford Explorer stopped in traffic. The collision caused the Explorer to strike an Oldsmobile Alero, which was pushed into the rear end of a Honda Accord that reportedly left the scene before first responders arrived.
The driver of the Explorer, identified as Ashley Cromer (27), Elkhart, KS, was transported to St. Catherine Hospital for treatment of minor injuries. All other occupants were uninjured. Both the F-150 and Explorer received extensive damage and were towed from the scene.
Ramon-Gastulo was cited for Faulty Brakes, Expired Driver's License, and No Proof of Insurance.
###