Elkhart Native to be Featured on History Channel's "Forged In Fire"
KSCB News - March 5, 2019 11:32 am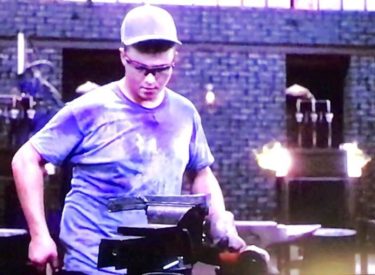 By SCOTT AUST
Director of Communications/Finney County Economic Development
Like many a boy who grew up on the High Plains, Deke Parker liked whittling sharp sticks.
Now, the 20-year-old Elkhart native is a self-taught blacksmith with an established side business of making beautiful and useful blades.
"It's more than a hobby I guess. It's been 10 years in the making so far. I made my first knife when I was 10 and sold my first one around 13," Parker said.
Parker's passion for blacksmithing and his skill for making knives landed him a spot on the reality television show, "Forged in Fire." Deke's episode airs this Wednesday, March 6, at 8 p.m. central time on the History channel.
The show pits four blacksmiths against each other in a series of challenges and eliminations. The final two smiths complete the last challenge at their home forges. The show's judges are experts in their fields and put the blades through numerous, rigorous tests. The contestant who survives the elimination rounds and wins the episode's contest earns $10,000 and the title of Forged in Fire champion.
The process of getting on the show began soon after Parker's 18th birthday, his grandmother, Peggy, found application information on the internet and urged Deke to apply. Deke said he sent in the paperwork and talked to a woman in New York who worked for the show.
"Within a couple weeks I did some Skype interviews and did a video forging out a knife and sent it in. She said they'd take me in consideration and I didn't hear anything for about a year-and-a-half," he said.
Out of the Blue
Then, while on a lunch break at work, Parker received a random call out of the blue from the show's producer who asked if Deke was available on certain dates last September. He jumped at the opportunity.
"I said, 'Well, since it's Forged in Fire I'll be free," Parker said.
Shooting the show required almost a full three weeks. But Parker didn't have any days off at his old job so he quit and ran off to New York, he said with a chuckle, adding that he did have a new job lined up for when he returned.
The show flew Parker to New York for filming. The first day, which was the longest, filming took 13 hours. The rest of the first week ran about 7 to 8 hours each day. Interestingly, Parker had to wear the same clothes for the first few days in order to maintain continuity for the episode.
"It was weird. But the weirdest part is I couldn't tell you where they shot the episode at. They took us a different way to the studio from the hotel each day so that we couldn't remember it. They don't want people there bugging the studio, you know?" Parker said.
Parker said it was an incredible experience, and he made several new friends scattered across the United States who are planning to go to blade trade shows together in the future.
"Really, it was an awesome experience. I learned a lot, made new friends. It's good for business. Who knows, maybe it will lead to a full time career," Parker said.
All Self-Taught
Currently, Parker works fulltime for Seaboard Farms and guesses he probably spends another 30 hours per week building knives and doing forge-related work at home. Parker is a traditional blacksmith, not solely a knife maker.
"I've been blacksmithing and fabricating my whole life. I've built several trailers. It's always been kind of 'need a tool, make a tool' type of thing," he said. "When I started, I was just a kid. I was a typical boy. Then I saw pictures of file knives on the internet so I went out and built one. From there, I just stuck with it, made some more. People started seeing them and liked them, I guess, so I started selling them."
Parker usually builds two to three knives a week. While he built his first piece at 10, and sold his first knife around age 13, Parker said he became more focused on the side business around the age of 16 or 17. He takes pride in his work and agreed it's an art.
"I call it 'heart and soul,' every knife I make. I mean if you've seen me, you've seen all the cuts on my hands. It's blood, sweat and tears," he said.
When asked where he gets his ideas or inspiration, Parker said he has always had an interest in blacksmiths and how they can make something out of anything.
"I've always been a hunter, and skinned a lot of coyotes so I needed sharp knives that were good knives," he said.
Episode Airs Wednesday
According to this week's episode description, "Four smiths must use the canister method to forge a signature blade, but welding failures and abandoned canisters leave some of the competitors scrambling; two smiths return to their home forges to create the Austro-Hungarian Hussar Saber."
"Forged in Fire" tests some of the best in the field as they attempt to re-create some of history's most iconic edged weapons.
Former Army Ranger Wil Willis hosts the competition series that sees four master bladesmiths challenged in each episode to forge the swords, which are then tested by a panel of judges consisting of J. Neilson, who has been making knives for more than 20 years, hand-to-hand combat specialist Doug Marcaida, and David Baker, an authority on replicating period-accurate weaponry.
For more information about the show, visit www.history.com/shows/forged-in-fire