Eli Svaty named Executive Director of Economic Development
Steven Rains - August 15, 2019 8:44 pm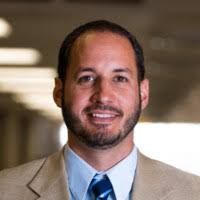 Liberal/Seward County Development Corporation is pleased to announce the hiring of Eli Svaty as the Executive Director of Economic Development. Eli brings an energy and enthusiasm to the position that supports the overall goals of the organization and the area. 
Mr. Svaty grew up on a farm south of Ellsworth, Kansas. He graduated from Sterling College in 2006 with a degree in language and literature. He moved to Liberal in August of that year when he began his career as a teacher with USD 480 and Liberal High School. For the past thirteen years, he has worked for the district teaching English and coaching basketball, golf, and scholars bowl. During that time, he also earned a Master's Degree from Fort Hays State University. 
While in Liberal, Eli met his wife Marilyn, a graduate of Liberal High School. They have four children–Caleb, Cairo, Zoe, and Atticus–who range in age from eleven to one. Marilyn spends most of her time with the children and also works part time for the Liberal Area Coalition for Families. 
While the transition from classroom to economic development might not be a typical one, Mr. Svaty sees a number of parallels between the positions. First, much of what education demands is salesmanship. Students are often reluctant to write papers or read novels, and it is up to the teacher to convince them that this investment of time and energy is worthwhile. The same will be needed to bring new businesses and industries here. Second, as a coach, Mr. Svaty was exposed to the perspectives of the rest of the state and their views of our region. Seward County has great opportunities and great resources, and living here has helped him understand that and given him the desire to correct the misconceptions around the state. 
This position also requires significant communication with Topeka and the work being done there. Mr. Svaty has existing connections with the Department of Commerce, and his brother served as Secretary of Agriculture for Governor Parkinson and continues to work for Gencur-Svaty Public Affairs in Topeka. Eli is also a certified grant writer and has written grant proposals for non-profit organizations in the area. 
Ultimately, his goal is to see the county and its residents succeed. He loved his time with USD480 and the opportunities he was given during his thirteen years there, but he is excited about serving his community in a new way through this role as Executive Director of Economic Development.