Eisenhower Ends Liberal's Playoff Hopes
KSCB News - October 24, 2015 7:20 am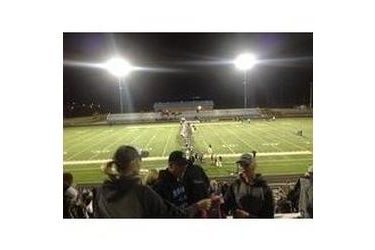 Now we know. Liberal's football season will end Friday against Ark City at Redskin Field. For the first time since 2012, LHS will not be a part of the 5A playoff bracket. Goddard Eisenhower, enjoying their best ever season, out-muscled the Redskins 27-6 Friday night at Goddard District Stadium.
Eisenhower recovered the opening kick off at the LHS 41. They kept their drive going with a 30 yard completion on third and 12 to the LHS eight. EHS's Joseph Weibel ran for a four yard scored at the 9:32 mark to make it 7-0 after the PAT. The Redskins used their bone package, a double tight formation with the quarterback under center and two full backs in front of the running back. The moved the ball inside the Eisenhower 10 before fumbling to Eisenhower. The Tigers led 7-0 after one quarter. Eisenhower returned a kick to the LHS 26 leading to a short field and a Weibel three yard TD. Cade Hinkle gave LHS some spark with an interception. Eisenhower's Noah Strunk returned the favor intercepting an LHS pass. The Tigers would turn it to points with an Adam Brown two yard score at the 1:23 mark to make it 21-0 which was the halftime score.
The Redskins finally scored in the second half when Payton Emery forced and recovered a fumble at the Eisenhower 13. Jared Hasik's 13 yard pass to the back of the endzone and Alan Fraire's diving catch gave the Redskins their first scored with 1:19 to play in the third. Liberal's point after was blocked. Mason Madzey's one yard run with 6 :30 remaining in the game made it 27-6.
Eisenhower, who was 1-8, 2-7, and 2-7 their first three seasons, is 5-3. LHS is 1-7. Eisenhower had 289 yards and LHS had 172. Liberal hosts 1-7 Ark City for their final game Friday night at 7 with Redskin Pre-game at 6 on 1270 and kscbnews.net.