Effort Questioned Again in Holcomb Loss
KSCB News - January 25, 2012 7:17 am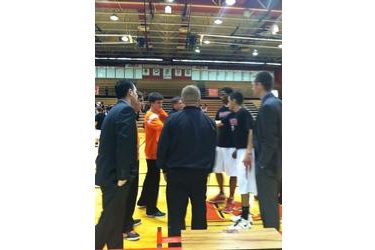 For the second time in three games, Liberal's head coach Drew Gruver questioned his team's effort after a loss. Holcomb breezed by the Redskins 80-62 Tuesday night in the Big House. Gruver said during KSCB's postgame his team didn't play hard in the first half.
The Longhorns, coached by former Southwestern Heights coach Chad Novack built a 15-8 lead after one quarter and led by 20 in the first half (34-14 and 38-18). It was 40-23 Horns at the half. Point guard Tyler LaSalle led Holcomb with 24 points.
Liberal made one furious comeback in the third quarter with a 9-0 run to make it 53-42 Holcomb. But LaSalle nailed a three and Liberal never made another serious push. Holcomb made 21-27 free throws in the win. Liberal committed 21 turnovers but 13 came in the decisive first half.
DeVondre Livingston scored 20 and Kenlee West added 13 in the loss.
Liberal is 3-10 and Holcomb is 9-5. Four of their five losses came to 6A schools and one loss to number one 3A Scott City.
The two head coaches are good friends and Novack and Gruver played together at Garden City Community College.
LHS hosts Dodge City Tuesday night on Talkradio 1270 and kscbnews.net.