Early Sunday Morning Building Fire in Guymon
Joe Denoyer - February 27, 2023 12:46 pm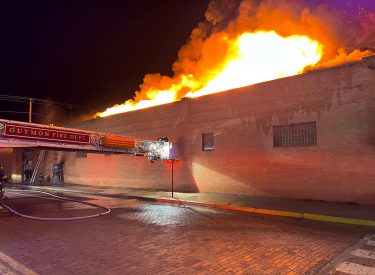 At 4:55am Sunday morning, Guymon Police Officers on routine patrol found smoke coming from a downtown building window in-which they immediately requested Guymon Fire Department response. On Firefighters arrival to 502 N. Main, they found heavy smoke coming from the front and back of this building that is used for Youth Ministry by Victory Center Church.
"Firefighters attempted to make entry to get to the center of where the fire was located but had to back out due to rapidly deteriorating conditions", said Fire Chief Grant Wadley. Fire broke through the roof of the building and out the front onto Main Street before the entire roof collapsed from the intense fire. This 3-alarm fire took Firefighters nearly 3 hours to control with assistance from Goodwell and Hooker Fire Departments as well. "At one point, flames were viewed 50ft high in the air coming from roof and extremely heavy black smoke filling the entire downtown area of Guymon", Chief Wadley stated.
The cause of this early morning fire is unknown at this time and is being investigated by the Oklahoma State Fire Marshal Office. No injures were reported and Firefighters remained on scene for nearly 12 hours. Other businesses to the north of this location received smoke damage. Cost of this fire is still being assessed.