Earhart Set to Become a Star
Brock Kappelmann - November 10, 2017 7:02 am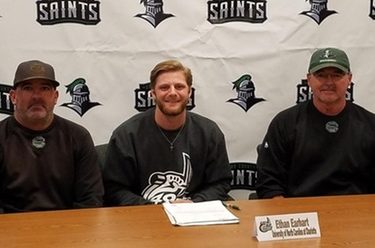 LIBERAL, Kan – Seward southpaw standout Ethan Earhart signed his letter of intent on Thursday in the All-American room to continue his pitching career at UNC-Charlotte.  He'll make the transition to being a 49er at the end of this season.
Earhart made 16 appearances for the Saints in 2017, with nine of them being starts.  He pitched 51.1 innings and sturck out 57 batters. He struck out a career high 11 batters on March 26 against Colby in just five innings.  He was able to pick up a save against Rose State, striking out three batters in the final two and third innings.  Over the offseaon, Earhart pitched for the Liberal Beejays, where he most notably struck out future MLB Hall of Famer, Chipper Jones, at the NBC World Series.
Head Coach Galen McSpadden still doesn't think Earhart has reached his potential. "As far as his ceiling is concerned, I think it's still a mile above his head."
Earhart will join a 49er club that went 34-24 a season ago.  He will play for head coach Loren Hibbs, who has led the 49ers to five NCAA Tournament apearances.
Ian Applegate