Dustdevils Defeat Aggies
KSCB News - December 9, 2013 6:23 am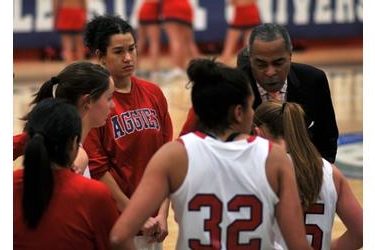 Aggies Defeated by Dustdevils
By Justine Gaskamp on 12/07/2013
Goodwell, Okla.-In their final home game of 2012 the OPSU women's'
basketball team was defeated by Texas A&M International University 83-53 on
Saturday afternoon in the Oscar Williams Field House.
The Dustdevils went to work early and stood their ground, allowing only 11
Aggie points in the first 10 minutes of play while putting 31 on the board
for the visitors. Later in the opening half the Dustdevil fouls started
flying which allowed OPSU to show their skills from the free-throw line;
TAMIU racked up seven fouls in three minutes, including a technical on the
bench and OPSU went on to sink 10 of 13 from the line. The Aggies, however,
struggled with turnovers throughout the first twenty minutes and left the
court down by 24 points with a score of 50-26. OPSU ended the half shooting
36.8 percent from the field, 33.3 percent at three-point range, and 76.9
percent in free-throws.
Meagan Bell and Sarah Johnson started the second half off with a pair of
threes but the Dustdevils answered and maintained a solid 23-point lead.
Bell and Johnson went on to sink three more from beyond the arc and were the
only Aggies successful from the three-point range; Johnson with three and
Bell with two. The Dustdevils increased their lead to 30 and took a 83-53
victory over OPSU. The Aggies held TAMIU to 37.9 percent from the field and
27.3 percent at three-point range in the second half; down by more than 20
percent from the first half.
Sarah Johnson led the Aggies in points and assists with 18 and four
respectively. Meagan Bell finished with 15 points and was perfect from the
line shooting 6-6. Sharice Papaleo led in rebounds with 6 and totaled 10
points. Bench points proved to be a factor as the Dustdevils out-scored the
Aggies 38-0 from the bench. The Aggies' record drops to 0-10 overall and 0-4
in the Heartland Conference.
OPSU basketball will be on the road until after the New Year, and will
return to Goodwell on January 9 to take on University of Arkansas-Fort Smith
at 5:30 p.m.