Dunlap's Big Night Not Enough
Brock Kappelmann - September 28, 2019 7:41 am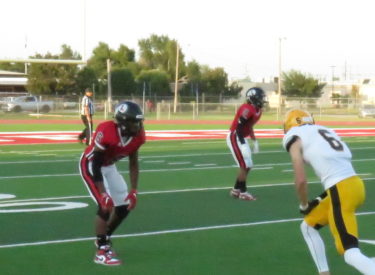 With injuries mounting to the Liberal Redskins, the Wichita Southeast Buffaloes beat the Skins 33-28 on homecoming night Friday at the Gary Cornelsen Sports Complex.  Syris Dunlap rushed for a career high 205 yards but it wasn't enough.  Already playing without starters Israel Avalos, Elijah McCarter, and Braxton Hyde, Alex Esparza was injured on the second play of the game.
Southeast used up 5:30 on the opening drive but missed the 32 yard field goal attempt.  The Redskins used seven plays on their first offensive drive to score on an 18 yard run by Syris Dunlap to lead 6-0.  Liberal's two point attempt failed.  Wichita Southeast's Knowledge McPherson scooped up a squib kick and raced 80 yards for a touchdown at the 3:03 mark to lead 7-6.  Fontaine Dixon's two yard run at the 9:54 mark of the second quarter gave the Golden Buffaloes a 14-6 lead.  A Dunlap 42 yard run set up a nine yard Jose Beltran run for a score at the 8:19 mark.  Dunlap's pass to Hunter Hatcher for two points tied the game at 14-14.  Dixon's five yard run make it 20-14 with 7:22 and Hunter Hatcher blocked the PAT.  McPherson's four yard run made it 26-14 as LHS clearly missed Esparza at linebacker.
Liberal scored the first two times in the second half.  Dunlap's one yard run at the 5:54 mark of the third quarter made it 26-20 as Liberal's two point attempt failed.  Dunlap's 49 yard pass to Malcolm Wiltshire set up Dunlap's 21 yard run to tie the game at 26-26 with 3:30 to play in the third.  Liberal's two point attempt again failed.  Joel Underwood's nine yard TD gave SE a 33-26 lead with 2:19 to play in the third.  Southeast's AJ King intercepted a late Dunlap pass in the endzone on 4th and 15 to seal it.  Liberal got a late safety as the Buffaloes were trying to run out the clock.
Liberal had a better offensive night with 360 yards but SE gashed Liberal for 380 yards.
Liberal is 2-2 and Southeast is 2-2.  Liberal hosts Garden City for Senior Night Friday night at 7 with Redskin Pregame at 6 on 1270 and kscbnews.net.
Audio from first half of game and halftime ceremonies:
Second half and postgame audio: