Dunlap Shines in Win in Wichita
Brock Kappelmann - October 8, 2016 2:46 am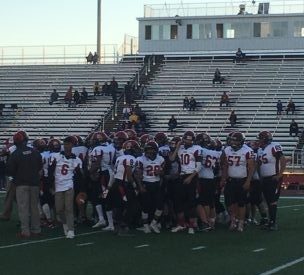 Syris Dunlap took his game to another level Friday night in Wichita.  In state's largest city, the freshman shined bright with five touchdowns in a 38-7 Liberal win over the Wichita Southeast Buffaloes at Heights Stadium in north Wichita.  Dunlap rushed for 194 yards from scrimmage.  He also returned a kick for a touchdown and intercepted a pass for a score.  Most kids dream of this kind of game in their back yard, let alone under the Friday night lights.
Dunlap returned the opening kick 80 yards for a score.  Derryck Symons intercepted a Southeast pass in the endzone.  Tyrique Chandler intercepted a ball.  Liberal threw an interception at the 4:21 mark.  Dunlap went around the left end for a 56 yard scored for a 13-0 lead at the 2:15 mark of the first quarter after the PAT hit the upright.  The Buffaloes connected on a 4th and 19 for a 23 yard touchdown from Tarik Adkins to Mark Carter to make it 13-7 with 6:17 to play.  Liberal's Misael Monarrez recovered a fumble for the fourth time this season.  Southeast intercepted a Chandler pass on a fake punt.  So in the first half, SE turned it over three times and Liberal had two turnovers.
Dunlap intercepted a pass and raced about 60 yards for a score at the 9:45 mark.  Zach Mansell's three yard scored made it 26-7 with 5:13 to play in the third.  Southeast recovered a fumble on a muffed punt for Liberal's third turnover of the night.  But Ty Johnson returned the favor with an interception.  Dunlap added runs of 45 yards (10:23 to play) and 33 yards (7:09 to play) for the 38-7 win.  Liberal had about 300 yards of offense and it was all on the ground.  Southeast committed five turnovers and had 189 yards.
Liberal is 4-2 for the first time since 2004.  Southeast is 1-5.  The Redskins host 6-0 Great Bend Friday at 7 at the Gary Cornelsen Sports Complex with Redskin Pregame at 6 on 1270 and kscbnews.net.