Dunlap Named LHS Head Football Coach
Brock Kappelmann - March 21, 2017 6:27 am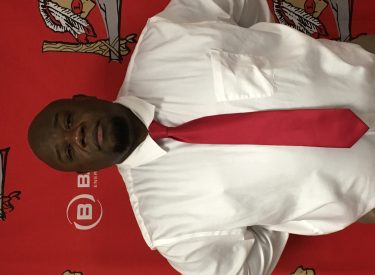 Jason Dunlap, Liberal High School alumnus and long-time Liberal native and coach will take the helm as head football coach of the Liberal Redskins.
Dunlap, along with eight other candidates, interviewed with a panel of building and district administrators, parents, fellow coaches, and students.  He was selected for his strong commitment to the community, his vision for the program, and his dedication to developing young men and women into leaders who demonstrate character and integrity.
"We are proud to welcome Coach Dunlap as our head football coach.  He is a Redskin through and through.  He has already had a strong presence in supporting all Redskin athletics and activities.  I am confident that he will make a tremendous impact not only on the lives of the young men who play football but also in the lives of all of our students."
Dunlap brings 18 years of coaching experience at both the high school and middle school levels.  In each of his three seasons as the Liberal West/Eisenhower Middle School head coach, he led his teams to league championships, with an overall record of 27-9.  Additionally, he has led middle school basketball and track teams at both Liberal South and West/Eisenhower Middle Schools to six league championships.
"Coach Dunlap has had a great deal of success in the various programs in which he has been a part," Athletic Director Clairinda Weatherwax said.  "He understands the importance of cultivating a winning attitude and holding high expectations for his student-athletes."
As first orders of business, Dunlap will begin immediately talking to the team, filling his coaching staff, and creating the summer strength and conditioning program.  He looks forward to working with the students and staff of Liberal High School as well continuing to work with the Liberal community.
"I'm excited to be building our young men into leaders, fathers, and citizens and creating a passion for the game of football.  And, I hope to instill in our student-athletes, male or female, that they are winners and are capable of doing great things," Dunlap said.
He replaces Caleb Cline who resigned shortly before Christmas after three seasons as head coach.