Duc and Vince Blow Up 5A Tennis Bracket
KSCB News - May 13, 2011 4:31 pm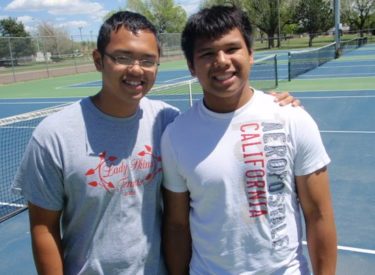 Liberal's Vince and Duc Nguyen have blown up the 5A boys tennis bracket. The LHS seniors are in the semifinals with the top programs in the state. They face a duo from McPherson in the semifinals Saturday. Duc and Vince beat a duo from Topeka West Nathan Schmidt Austen Krug and (6-2, 6-3) in the first round. In round two, they upset regional champs John Rohr and Macen Vargas from Ark City (6-3, 7-6). The Nguyen boys took down some of Kansas City's best tennis players when they defeated Mikel Stukel and Donald Mulveny of Aquinas (2-6, 7-6, 11-9).
Duc and Vince play Cory Horton and Max Pyle from McPherson who won the Salina Central regional last week while Duc and Vince took fourth. McPherson's top team hasn't faced the Nguyens this season. They were scheduled to compete in Emporia earlier this year, but the event was rained out. The top overall seed Andrew and Austen Davids from Topeka West also advanced to the semis.
Here is an interview with Duc and Vince from earlier this year.