Dubinsky's Big Night Lifts Saints Past Northwest Tech
Brock Kappelmann - December 14, 2021 12:07 am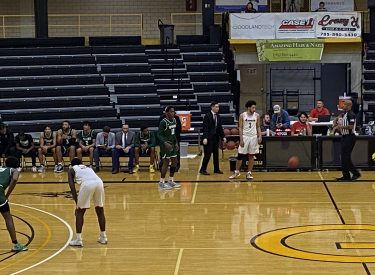 He is the only Saints to make nine three pointers in a game.  Wil Dubinsky knocked down nine three pointers as the Seward County Saints held on to defeat the Northwest Tech Mavericks 73-61 Monday night at Max Jones Fieldhouse in Goodland.  It's second most in SCCC single game history.  Erik Pratt made 10 in a game in 2021.
The Saints came out ready to go and led 14-5 and 16-7.  Seward led 19-9 before the Mavericks got busy on a nine nothing run to make it 19-18.  SCCC led 25-18.  The Saints led 31-28 at the half.  Northwest Tech took to the glass to lead 50-46.  Dubinsky went on a tear with a three point shooting barrage to give the Saints a 58-52 lead with 4:38 to play.  The Saints led 60-52 before the Mavericks made a three to make it 60-55.  Erik Pratt's three with 2:01 to play gave the Saints a 63-55 lead.
Seward shot 53 percent from the field and were 17-30 from three point range.  Seward won despite being out rebounded 32-22.  Dubinsky scored 27.  Pratt had 16.  Ahah Sillah had 10.
The Saints are 6-6 and 4-4 in the Jayhawk while Northwest Tech is 4-9 overall and 2-6 in the KJCCC.  Seward plays in Florida against Polk State December 29 and at Ste College of Florida December 30.