Drug Bust In Goodwell
KSCB News - July 2, 2010 12:00 am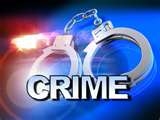 A routine traffic stop netting 22 pounds of marijuana has landed two women in jail while their children were taken into State custody.
Leanna M. Montano, 21, and Leticia D. Barela, 23, were taken into custody on drug charges last week on Hwy. 54 in Goodwell.
The incident occurred last Friday, June 25, as Goodwell Police made a traffic stop on a maroon 2000 Ford Expedition with New Mexico license plates. Inside was the driver, Montano, a passenger, Barela and five minor children. The vehicle was pulled over because it was going 47 mph in a 40 mph zone.
After speaking with the occupants of the vehicle, Goodwell Police deployed a K-9 unit on the vehicle. A positive detection of illegal narcotics occurred and consent was given to search the vehicle. Police then located ten black taped bundles of marijuana located in all four doors of the vehicle, weighing approximately 22 pounds.
Montano and Barela were taken into custody and the five children were taken into custody by the Dept. of Human Services.
Both are facing the felony of charges of Unlawful Possession of a Controlled Drug, Marijuana, within 2000 of a School and Possession of CDS without a Tax Stamp Affixed. They remain behind bars at the Texas County Detention Center with a $50,000 bond. Each could land more than nine years in prison.