Driver Issued Citations after Accident
Joe Denoyer - September 15, 2022 8:21 pm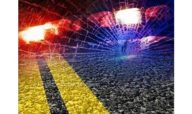 On September 13th at approximately 3:25pm, Officers of the Liberal Police Department were dispatched to 11th and Kansas in reference to an accident.
Upon arrival, Officers observed a 2012 Blue Ford Fusion driven by an 80 year female, was Northbound in the 1000 block of Kansas Avenue when multiple witnesses stated she drifted left of center while passing through the intersection and struck a gray 2014 Dodge Durango head on. The Dodge was pushed back into a 2020 Maroon Chevy Silverado. The driver of the Ford was transported to Southwest Medical Center as a precaution.
A citation was issued to the driver of the Ford for, driving left of center, driving while license revoked, and no proof of insurance.