Dragons Roar Late Against Saints
Brock Kappelmann - February 23, 2020 10:46 am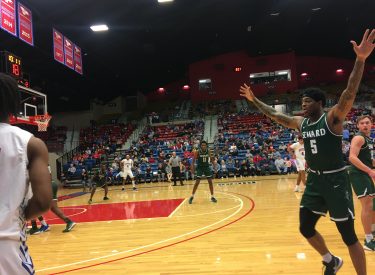 After Seward led at the half, the Hutchinson Blue Dragons came through in a resounding way in the second half in a 67-47 win over the Seward County Saints Saturday night.  The Saints led 23-23 at the half but the Dragons shot 58 percent in the second half and out paced SCCC 45-24 in the second half in front of a big Hutchinson Sports Arena crowd.
The Saints sputtered offensively shooting 31 percent and 28.6 percent in the second half.  Seward made just 5-23 from three point range and 2-3 from the foul line.  Hutch made 7-14 three pointers and 12-16 at the foul line.  Seward led 21-13 in the first half  but couldn't hang on to that lead.
One game after scoring 122 points Wednesday at Goodland, the Saints did not have a player score in double digits.  Bee  McCrary had nine points and four rebounds with four assists.  Ahmed Ibrahim had eight points and six rebounds.  Stephen Takyi had eight.  The Blue Dragons out rebounded the Saints 45-33.
Seward falls to 6-46 against HCC in the Hutchinson Sports Arena.  Seward is 17-13 and finishes at 10-11 and under .500 in the Jayhawk West after two years over .500 in the KJCCC.  Hutch is 22-8 and 13-8 in the Jayhawk West.  Seward plays at Independence Wednesday night at 8 in the Region 6 Tournament first round.  The game airs on 107.5 and kscbnews.net.  If Seward wins, they play Sunday night at 7 against Colby in the quarterfinals on the Region 6 Tournament at Dodge City's United Wireless Arena.