Doughboy returned home safely
KSCB News - February 6, 2009 12:00 am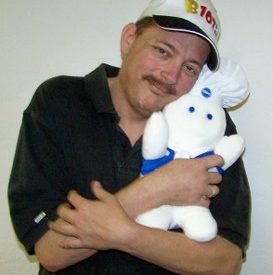 The Pillsbury Doughboy held captive for more than a week has been returned safely to his owner Blake Ozz after $700 was raised for his ransom. Per instructions by the unknown kidnapper, the money was donated to the Stepping Stone Shelter Of Liberal.
The doughboy was found innocently sitting in a chair outside the KSCB studios after the ransom was paid. A note attached to the doughy little guy was thanking the listeners for helping save his life.
Ozz was jubilant of the safe return of his only friend and through tears gushed, "Thank you God."
The kidnapper made two phone calls to the studios prior to the release of doughboy but authorities were unable to trace the calls.