Double Overtime Heartache with Hays
Brock Kappelmann - October 14, 2023 7:33 am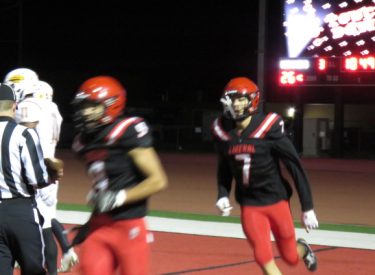 The Liberal Redskins lost for the first time in 2023.  It took double overtime to do it.  Hays wins at least a share of the WAC title with a 48-41 double overtime win at the Gary Cornelsen Sports Complex Friday night.  It was Liberal's first overtime game since a one point loss to Hays in 2019.  It the the third overtime game for the Indians this season.
Liberal got off to a slow start again.  falling behind 21-6.  The Skins had the ball first and were stopped short on a fake punt deep in their own territory.  Hays got the ball on the Liberal 21 with a 20-30 mile per hour wind out of the north at their back to begin the game.  Hays scored on a 21 yard reverse to Jarek Purdy at the 9:05 mark for the 7-0 lead.  Hays QB Carter Graham hooked up with Johnny Cano for a 41 yard score to lead 14-0 with 5:23 to play in the quarter.  In Liberal's next possession, they dropped a touchdown pass.  Then Liberal threw an interception to Derek Quach.  However, Liberal's Tyren Holmes recovered a fumble.  The Redskins finally put together a drive at the end of the first quarter advancing the ball to the Hays four.  It was 14-0 Hays after one.  Ivan Moreno punched it in from four yards out three seconds into the second quarter.  Liberal missed the PAT to make it 14-6.  Hays running back Malik Bah dashed 71 yards into the north end zone for the 21-6 lead with 11:11 to play in the half.  J. Brooks Kappelmann sprinted 55 yards for a score with 10:05 to play.  The two point attempt failed and it was 21-12 Indians.  Brooks Kappelmann's nine yard run with 5:27 to go brought Liberal within three.  Kappelmann found James Fieser in the back of the end zone on a tipped ball for the two point conversion to make it 21-20.  That was the halftime score.  Both defenses exchanged stops to begin the third quarter.  Hays used a time consuming drive to take a 27-20 lead after Carter Graham found Johnny Cano for a nine yard hook up with 2:01 to play in the third.  It was 27-20 Indians after three.  Brooks Kappelmann lofted a nine yard touchdown to Aidan Schwindt to begin the fourth quarter.  The two point conversion failed.  Carter Graham found Ian McGuire for an 18 yard scored and a 34-26 lead with 8:04 to play.  Brooks Kappelmann scrambled to keep a play alive and found Zayden Martinez for a 52 yard score.  Kappelmann ran it in for two to tie the game 34-34 with 6:15 to play.   Neither offense scored again in regulation.  In overtime, both teams get the ball at the opponents 10 yard line.  Liberal got the ball first and Brooks Kappelmann wasted no time with a 10 yard run on the first play of overtime.  But Hays Jarek Purdy scored on their first play in overtime on another reverse and the point after made it 41-41.  Hays got the ball to begin double overtime and Graham ran it in from seven yards out with the PAT making it 48-41.  Liberal was tackled for loss on their first play in overtime.  Kappelmann flipped a ball out of bounds while being pressured on second down.  Hays was called for pass interference advancing the ball to the six making it third and six.  Ivan Moreno ran it to the two bringing up 4th and 2.  Kappelmann's run up the middle was stopped ending the game.
Liberal amassed 428 yards.  They rushed for 256 yards.  Brooks Kappelmann rushed 22 times for 178 yards and three touchdowns.   Ivan Moreno rushed 19 times for 78 yards and a touchdown.  Kappelmann was 14-25 for 172 yards with  two touchdowns and one interception.  Zayden Martinez  had eight catches for 116 yards and a touchdown.  Hays put up 455 yards of offense.
Hays is 5-2 and 3-1 in the WAC winning their fourth straight WAC title.  Liberal is 6-1 and 3-1 in the WAC.  The Redskins could still share the WAC title with Hays and Garden City if Garden City wins at Great Bend next week.  Liberal hasn't won the WAC since 2003.  Hays has won 14 of the last 15 in the series including eight straight in Liberal and seven straight overall.  Liberal hosts Ulysses for Senior Night Friday night at 7pm on 1270 and 92.3.