Domzalski and Glanz Receive Conference Honors this Week
KSCB News - May 1, 2012 1:27 pm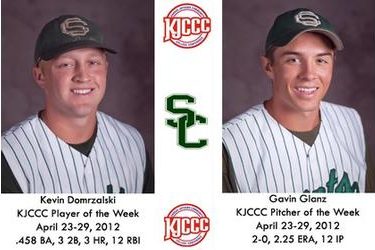 Playing in their final Jayhawk West Conference series of
their Seward County careers, Saints sophomores Kevin Domrzalski and
Gavin Glanz saved their best for last. Domrzalski was named the KJCCC
Player of the Week after continuing his blistering finish to the 2012
regular season this week, hitting .458 with 3 doubles, 3 home runs, and
12 RBI's in 7 Seward County games, leading the Saints to the #1 seed for
the upcoming Region VI Tournament. Monday in non-conference action,
Domrzalski was 4 for 8 with a home run and 4 RBI's in a split double
header sweep for the Saints over Redlands and Rose State. Tuesday
against Clarendon he came off of the bench to spark a remarkable 10 run
comeback for the Saints, lacing a bases clearing double to complete the
comeback and give Seward a 15-14 win. He stayed hot into the weekend
and on Saturday against Colby, was 5 for 9 with 2 home runs and 5 RBI's
to help the Saints clinch the top seed in the West. Glanz finished off
a banner 2012 regular season for the Saints this week to earn KJCCC
Pitcher of the Week honors after going 2-0 with a 2.25 ERA in a pair of
starts. Monday in non-conference action against Rose State the
righthander went his scheduled 4 innings to pick up the victory against
the Raiders and followed that up with yet another dominating Jayhawk
West Conference pitching performance against Colby, going all 8 innings,
allowing just 3 hits and 2 unearned runs to pick up his 10th victory of
the season.
Roy Allen