Dodge Shows Bee Jays the Door
KSCB News - August 6, 2012 10:32 pm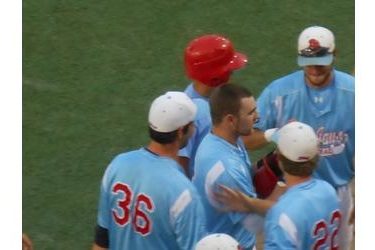 Jayhawk League rival Dodge City eliminated the Liberal Bee Jays from the NBC World Series Monday night 5-2. The Bee Jays finish 30-17 and 3-2 in the NBC.
Liberal scored first when Johnathan Sigado blasted a solo homerun over the left field wall to make it 1-0 in the bottom of the third.
The A's scored two in the fourth against startter Dalton Bernardi who allowed just two earned runs in seven innings. He struck out seven and walked one and finishes 3-2 on the season.
Liberal's defense let down in the seventh when their third baseman committed two errors allowing three unearned runs to score and make it 5-1.
The Bee Jays loaded the bases with one out in the seventh but after a popout to the catcher it took a two out basehit by Derek Miller to score their only run of the inning. Liberal got two runners on in the ninth but couldn't score.