Dodge City Takes Tune Up Over Saints
KSCB News - May 1, 2013 7:16 am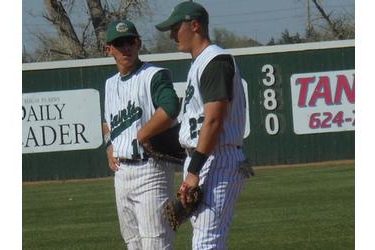 Seward and Dodge City are friends right now. The Dodge City Conquistadors rallied from 5-0 down going to the bottom of the ninth Sunday night in Dodge City to tie Garden City and win 6-5 in extra innings. That DCCC win gave Seward a Jayhawk West title outright rather than a shared crown with Garden City. The two teams hooked up Tuesday for a light hearted scrimmage at Brent Gould Field. It was a chance to give players a glorified scrimmage with the Region 6 Tournament best 2 of 3 round ng Saturday.
Dodge City won the game 8-2 dropping the Saints to 29-27 while the Conqs are 31-21. Bryson Allen and Alex Scanlan combined for 5 of the Saints 7 hits in the loss as Allen was 3 for 3 with 2 RBI's and Scanlan finished 2 for 4.
Seward hosts Independence Saturday at 1 p.m. on Talkradio 1270 and kscbnews.net with an "if necessary" game Sunday at 1 p.m. on 1270.
Sat-Sun. May 4-5
NJCAA Region VI Regionals at East and West Top 4 Seeds – Times TBA
1:00 – Independence (16-34) at (29-26) Seward County –
12:00 Butler (24-19) at (31-20) Kansas City KS –
2:00 – Neosho County (29-23) at (30-21) Dodge City
1:00 – Pratt (22-27) at (37-15) Fort Scott –
1:00 – Johnson County (2-27) at (26-25) Garden City
2:00 – Hutchinson (22-28) at (27-23) Coffeyville –
1:00 – Highland (23-25) at (37-17) Colby –
TBA – Cloud County (22-28) at (42-9) #2 Cowley