Dodge City Out-Muscles Redskins
Brock Kappelmann - February 19, 2019 7:25 am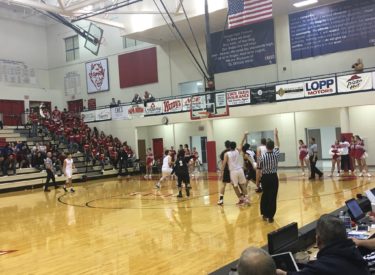 Dodge City sweeps the season series with the Liberal Redskins.  However the two teams prove to be very evenly matched.  After a 64-63 overtime loss to DCHS on February 9 in the Big House, Liberal dropped a 69-67 decision Monday night in the Dodge City Fieldhouse.
Liberal lost the game primarily due to their inability to keep Dodge City off the glass.  The Red Demons led the rebounding statistic 43-28.  The Redskins shot 49 percent from the field and held the Red Demons to 38 percent.  Dodge was 20-29 from the foul line and the Redskins were 18-29.  The Demons mad 7-29 three pointers and LHS was 5-13.
Dodge City led 17-13 after one quarter and 40-38 at the half.  Liberal claimed a 43-40 lead early in the third quarter.  LHS led 47-46 with 4:14 to go in the third.  The Demons led 53-51 after three.  The Redskins led 59-54 with 4:35 to play.  A Hunter Hatcher jumper gave the Skins a 64-63 lead with 1:06 to play.  Dodge led 68-64 before a Brody Sumner lay up made it 68-66 Demons with :10.2 second left.  Syris Dunlap was fouled with :01.9 seconds left and made one of two free throws.
Liberal has dropped four of the last five and is 10-9 overall and 1-6 in the WAC.  Dodge City is 10-9 and 3-4 in the WAC.  Liberal hosts the Garden City Buffaloes Tuesday night at about 8 for Senior Night on 1270 and kscbnews.net.
Game audio for first half and halftime:
Game audio for second half and postgame: