Dodge City Girls Too Much for Liberal
KSCB News - February 26, 2016 7:22 am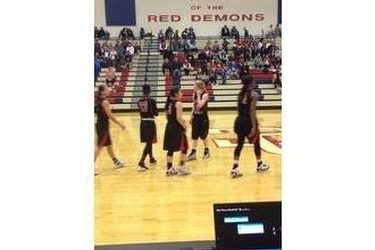 The Liberal girls were competitive at WAC champ and eighth ranked 6A Dodge City. But didn't have enough to pull off the upset as the Lady Demons wrap up their second consecutive 8-0 WAC season with a 47-35 win over Liberal in the Dodge City Fieldhouse Thursday night.
Liberal had 23 turnovers on the night and shot 38 percent. LHS out rebounded Dodge City 25-21. Jada Mickens had 13 points and nine rebounds while Ali Lucero added 13 and was eight of eight at the free throw line.
DCHS led 12-4 after one quarter and 18-12 at halftime. LHS closed that lead to 18-16 early in the third before the Lady Demons blew the game open to lead by as many as 16 (39-23).
Dodge City is 15-5 and went 8-0 in the WAC. The Lady Redskins are 11-9 and 4-4 in the WAC. It's Liberal's best WAC season since going 8-0 in 2009. Liberal will play on the road in sub state Thursday night at 6 on 1270 and kscbnews.net.