Dodge City Girls Rally Past Liberal
KSCB News - March 1, 2014 7:30 am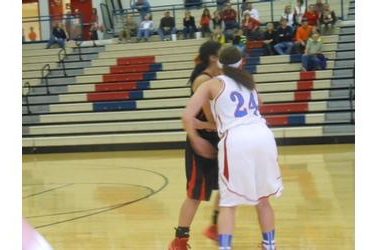 The Liberal Lady Redskins lost another tough game Friday night in the Dodge City Fieldhouse. Liberal led throughout the first half before DCHS rallied in the second half for their ninth straight win over LHS. The Lady Redskins finish the regular season 7-13 overall and 2-6 in the WAC.
The Lady Skins bolted to leads of 7-0 and 11-5. They were tied at 11 at the end of the first quarter but LHS led 23-14 late in the second quarter. The Lady Skins took a 23-16 lead into the locker room for halftime.
The Lady Demons used a 9-0 run to take at 25-23 lead at the 5 minute mark of the third quarter. Dodge led 31-30 at the end of three quarters. The Lady Skins took the lead back at 39-35 with 4:45 to play. Dodge used an 8-0 run to lead 43-39. Liberal outscored Dodge 4-0 down the stretch to tie the game. Jai Chapman's guarded three sailed over the basket at the end of regulation. Dodge City's Chandra Sain hit a three in overtime which helped break the game open.
Jai Chapman had 16 and Jada Mickens scored 14 in the loss. The Lady Demons are 11-9 and finish 5-3 in the WAC. Liberal hosts sub state with 6-14 Maize South Thursday night at 6 on 1270.